Tongda Island New Materials Co,.Ltd

The company is China Industrial Textile Industry Association vice chairman unit of China Plastics Processing Industry Association, vice president of the unit. 2005 by the National Science and Technology as the "National Torch Plan Key High-tech Enterprise" by the China Textile Industry Association as "textile science and technology enterprises, the company produced the same brand microfiber leather in 2005 was identified as "China Famous Brand" in 2006, the company by the China plastics Processing Industry Association and China's industrial textile industry associations jointly approved as "China Microfiber industry base in 2008, the company was named the national high-tech enterprises, 2009 identified by the Shandong Province Science and Technology Agency Shandong Province island of new Materials Engineering technology Research Center "was set up in the company, the 2009 China industrial textile Industry Association awarded the 2008 ~ 2009 China textiles Industry contribution Award". 2010 light industry association, collective enterprises, Shandong Province, Shandong Province Light Industry and Textile trade union committee awarded the "Shandong Light Industry Association system reform and opening up three decades of outstanding contribution award.
With leading technology R & D capabilities and long-term professional development, a number of advanced level technical achievements in the field of artificial leather. The company's core technical staff of R & D "bundle microfiber polyurethane apparel fabrics and production methods", "high strength microfiber simulation composite leather and its manufacturing method", and a melt blending the island fiber and its production methods "were granted national patents for inventions, island Law PA6/PE blend microfiber and faux suede serialized product development and industrialization "in 2007 by the State Council of the People's Republic of China as the national Science and Technology progress Award, and more Xiang has won the Technology Progress Award of China Textile Industry Association, Science and Technology progress Award of Shandong Province, Weifang Municipal Science and Technology Award, the national Key New Product, the national Torch Plan Project.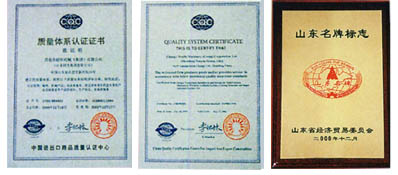 The ente4rprise's assets have reached RMB 200 million, with an annual output of 3000 tons of super fine island fiber, 3 million meters of island feber cloth series, 1 million meters of shoe cloth. The products can be widely used in garments,case, sofa cover and shoe making, etc.

Add:Western Part Limin St.Changyi City Shandong
Tel:+86-536-7191960 7191936
Fax:+86-536-7126831
Post:261300